Announcement on U.S. Air Force Assistance to the Government of Luxembourg in the Fight Against COVID-19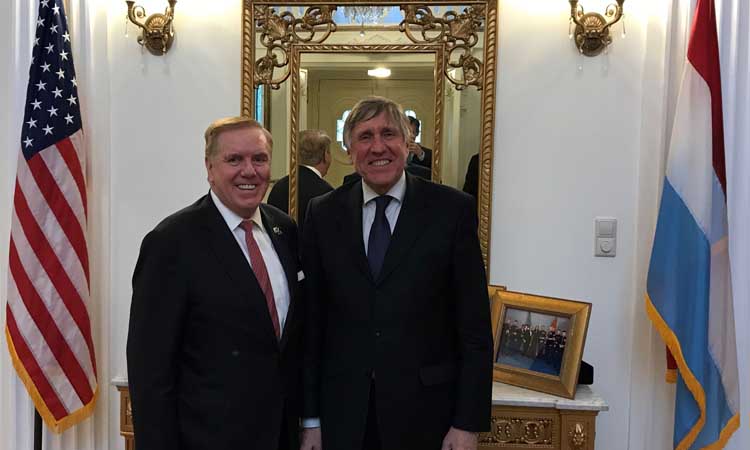 Responding to a request by the Government of Luxembourg, the U.S. Air Force provided power generators and refrigeration units to the Luxembourg Army Wednesday night to support Luxembourg temporary hospitals in its ongoing fight against the COVID-19 outbreak. Additionally, the USAF supported the effort of its local contractor to allow 36 employees from the Sanem Central Storage Facility to assist CargoLux with freight handling at the Luxembourg Airport.
The equipment will be used to increase medical treatment capacity at a temporary hospital established by the Luxembourg Army, and provided through the NATO Support and Procurement Agency. According to a representative from Centre Hospitalier de Luxembourg, the NSPA prepared, supported and coordinated the transport and construction of the facility and will assure its maintenance. The representative added that fifteen NSPA experts are teaming with the Luxembourg Army on the project and the additional facilities will enable them to considerably adapt the triage area for patients with an adjacent zone for laboratory tests and an X-ray area.
These supplies are part of U.S. Air Force war reserve material stored at Sanem, Luxembourg, and managed by the 86th Materiel Maintenance Squadron, out of Ramstein Air Base, Germany.
"The United States will support any effort that can be made to assist Luxembourg, one of our closest NATO Allies and partners," said U.S. Ambassador to Luxembourg Randy Evans. "We are in this public health crisis together and must all pull together to help each other."
For the latest information on COVID-19, please visit the U.S. Embassy Luxembourg website at https://lu.usembassy.gov/covid-19-information/ and follow us on Twitter and Facebook
For more information please contact the Public Affairs section at the U.S. Embassy in Luxembourg at +352 46 01 23 ext. 24 or at LuxembourgPublicAffairs@state.gov