Doughboys in Luxembourg exhibition openin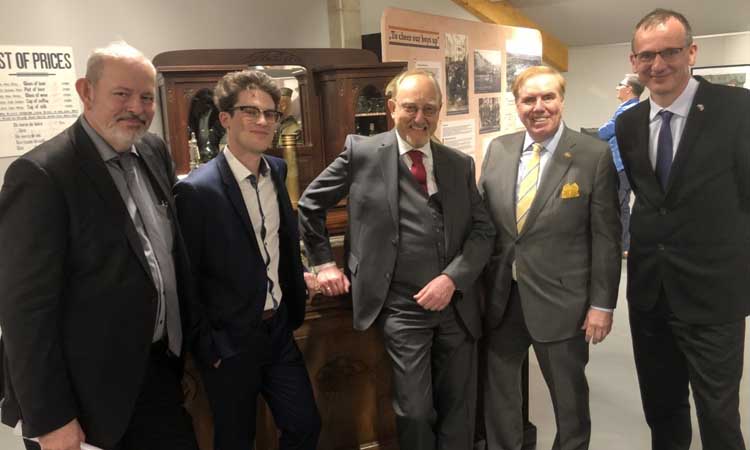 On Friday April 5 at  Luxembourg's National Museum of Military History, Ambassador Evans spoke to an audience gathered for the  opening of the "Doughboys in Luxembourg," a U.S. Embassy sponsored exhibition on the little known history of U.S. troops in Luxembourg at the end of the First World War. The Ambassador was joined by H.E. John Marshall, Ambassador of the British Embassy in Luxembourg and H.E. Dr. Heinrich Kreft, Ambassador of Germany Embassy in Luxembourg.
With historical "memory" being highly selective, the story of American Expeditionary Forces in Luxembourg between 1918 and 1919 is a widely unrecorded chapter of Luxembourgish historiography. This can be attributed to the "greater historical relevance" of the "fresher" and more "spectacular" events linked to World War II (i.e. the Battle of the Bulge). Indeed, there are more than 100 monuments in Luxembourg commemorating American military actions during WWII, but none about WWI.
The "Doughboys in Luxembourg" exhibition tells the story of the U.S. 5th and the 33rd Infantry Divisions which freed Luxembourg from German military occupation, at the end of the First World War. In accordance with the conditions of the Compiègne ceasefire (11 November 1918), Germany had to withdraw all combat troops from the frontline and from Luxembourg. Thus, U.S. troops entered Luxembourg to monitor the German military evacuation.
After a warm welcome, the 23.000 soldiers of the 33rd Division were quartered in different towns in the north and east of the Grand-Duchy. They stayed for five months. As for units of the 5th Infantry Division, they were billeted for over 6 months in the south of the Grand-Duchy. During this period, the Luxembourgish population and the American "Doughboys" developed an exceptional relationship, celebrating Christmas Eve together, organizing "Cabaret and Dance" events or simply joined for a friendly conversation over a beer or two.
Benoit Niederjorn, Director of the National Museum of Military History, Philippe Victore, Luxembourg History Teacher and NMMH Staff, and veritable "army" of volunteers and contributors worked diligently for almost a year to realize the "Doughboys" project which will being traveling to schools in Luxembourg in the fall of 2019.
Pictures of the exhibit can be found here